24/7 - Hot Water Repairs Sydney Expert
Get professional hot water repairs Sydney service. Our team ensures efficient and reliable solutions.
Hot Water Repairs Sydney Specialists
When you choose Sydney Electrical and Plumbing for your hot water repairs Sydney, you gain access to our experienced and skilled team of specialists. Our professionals have undergone rigorous training and possess in-depth knowledge of various hot water system models and technologies. They stay up to date with the latest industry advancements, ensuring they are equipped to handle any hot water repair challenge that comes their way.
Leaking hot water systems not only waste water but also pose a risk of damage to your property. Our experts are adept at detecting and resolving hot water leaks during the repair process. By pinpointing the precise location of the leak and employing effective repair techniques, we prevent further water damage and restore the integrity of your hot water system.
We provide experience top-quality Hot Water Repairs Sydney service. Our dedicated team of technicians is committed to delivering efficient and reliable solutions for your hot water system.
Common Issues of Hot Water Repairs Sydney
When it comes to hot water systems, various problems can arise that require professional hot water repairs Sydney. At Sydney Electrical and Plumbing, we have extensive experience in diagnosing and resolving a wide range of hot water system issues. Here are some of the common problems we encounter that may necessitate Hot Water Repairs in Sydney:
Sediment Build-up
Sediment build-up in hot water tanks affects performance and efficiency, leading to reduced hot water, increased energy consumption, and tank damage. Our Sydney technicians specialize in hot water repairs and can effectively address this issue.
Heating Element Failure
We fix broken heating elements in electric hot water systems. Our skilled technicians can replace faulty elements to restore hot water functionality.
Thermostat Issues
We repair thermostats in hot water systems. Our Sydney experts diagnose and replace them to ensure reliable and accurate temperature regulation.
Pressure Relief Valve Problems
Faulty pressure relief valves in hot water systems can cause leaks or tank bursts. Our Sydney-based Hot Water Repair technicians can inspect and replace them for enhanced safety.
Leaks and Water Damage
Our skilled team in Sydney offers prompt detection and repair of hot water system leaks, preventing water waste and damage to surrounding structures.
Gas Control Valve Issues
Sydney experts in Hot Water Repairs fix faulty control valves. This guarantees optimal gas hot water system performance and prevents water shortages or gas leaks.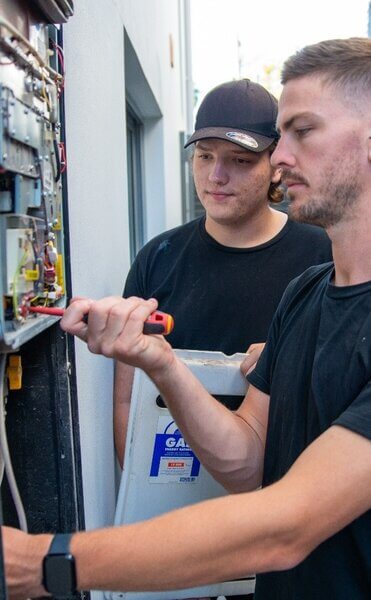 Hot Water Repairs Sydney: Signs of Hot Water System
If you're unsure whether your hot water system is experiencing problems, watch out for these signs in your Sydney home:
Quickly addressing hot water system issues is important to prevent further damage and ensure comfort. For minor issues, you can troubleshoot but complex problems require professional expertise. Contact Sydney Electrical and Plumbing for hot water repairs Sydney to prevent prolonged issues, leaks, water damage and costly repairs. Our experts prioritize your convenience and satisfaction to ensure your hot water system works optimally.
Key Benefits of hot water repairs Sydney Service:
The key benefit of our hot water repairs sydney service in Sydney is the peace of mind you'll experience, knowing that your hot water issues are being handled by a team of experts. Here's why our service stands out:
With our hot water repairs sydney service, you can expect efficient, professional, and reliable solutions that will restore the proper functioning of your hot water system. Don't let hot water issues disrupt your daily life – contact us today and experience the key benefits of our service firsthand.
Hot Water Repairs Sydney - FAQ
Get a free quick quote for hot water repairs Sydney
Ready to restore your hot water system and enjoy uninterrupted comfort? Get a quote from Hot Water Repairs today!
Our experienced team is here to provide you with a customized quote tailored to your specific hot water repair needs. Simply click the button and fill out the form below or give us a call, and we will promptly respond with a comprehensive estimate.
We understand the importance of timely repairs, and our goal is to minimize any inconvenience caused by hot water system issues. By requesting a quote, you are taking the first step towards resolving the problem and restoring the optimal functionality of your hot water system.